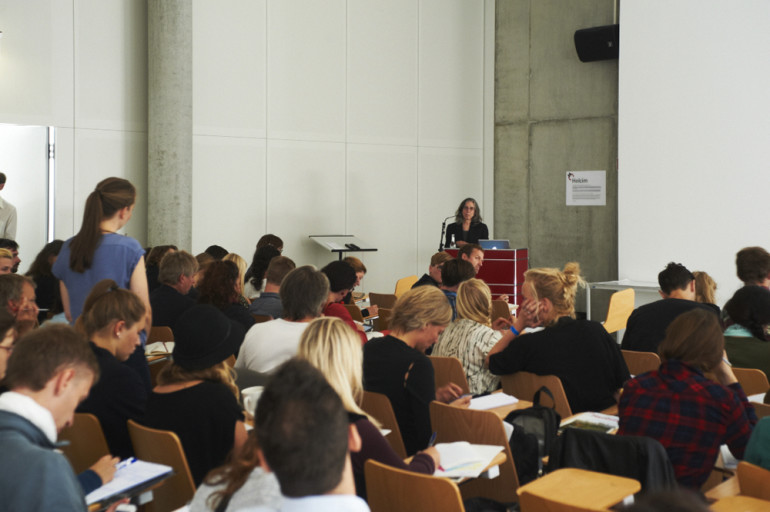 Cities, Culture and Sustainability – Kongress
24/07/2014


Beschreibung

Der internationale Kongress Cities, Culture and Sustainability fand am Freitag, 12. September 2014 statt. Wissenschaftler, Aktivisten und Stadtplaner wurden von Michael Ziehl (urban upcycling) eingeladen, um über nachhaltige Stadt- und Kulturpolitik zu referieren. Des Weiteren wurden internationale Best-Practice-Projekte vorgestellt. Die Keynote hielt Professorin Sharon Zukin vom Brooklyn College and Graduate Center der City University of New York. Des Weiteren sprachen Dr. Sacha Kagan (Leuphana University, Lüneburg), Dr. Oleg Koefoed (Cultura21, Copenhagen), Levente Polyak (wonderland platform for european architecture, Vienna / KÉK – Hungarian Contemporary Architecture Centre, Budapest) und Elke Krasny (Academy of Fine Arts Vienna). Mehr als 200 Besucher kamen anlässlich des Kongresses in die HafenCity Universität Hamburg. In der Ankündigung heißt es:
"To deal with urgent challenges like demographic change, a changing world of work and the consequences of climate change policies are needed, that strengthen social coherence. On the background of these changes in many cities self-organised initiatives emerged, that already implement sustainable policies on a project level. Within the frame of the city-link congress Cities, Culture & Sustainability we will present projects from Hamburg and Copenhagen and we will discuss along questions like: How can culture and urban policies strengthen urban societies? How can they contribute to make our cities more sustainable? How can they help to unfold the creativity of urban dwellers in general? What can we learn from urban communities and self-organised initiatives that evolve on the background of social changes? How can we foster such groups and where can we find space for more sustainable projects in our cities?"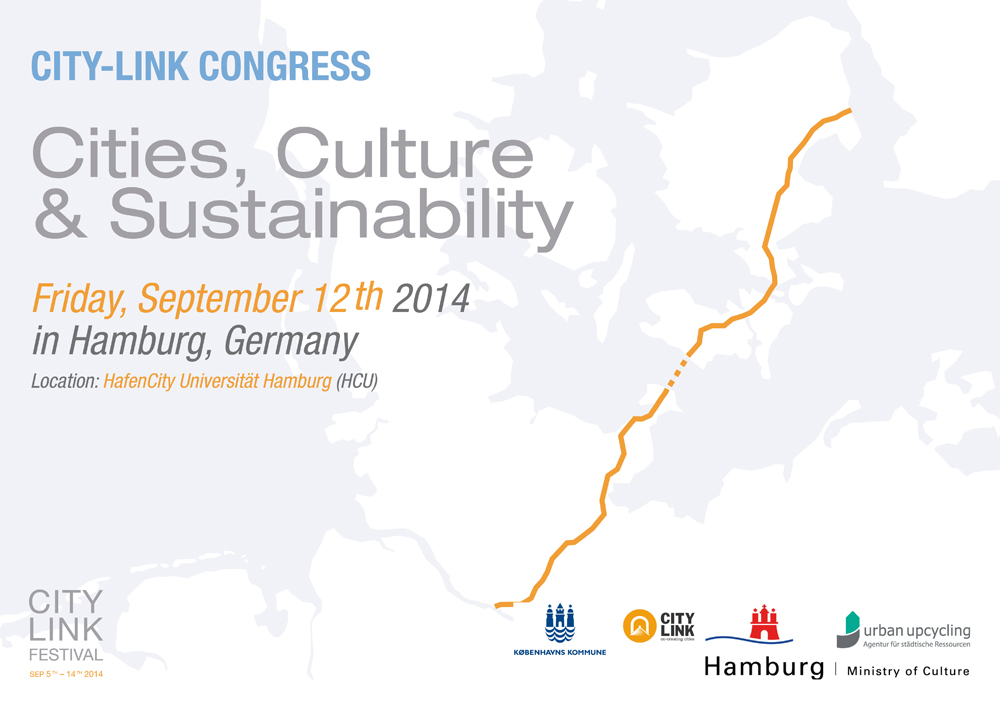 Der Kongress war ein Programmpunkt des City Link Festivals 2014. Vom 05. bis 14. September zeigten Künstler und Kulturschaffende verschiedener Disziplinen ihre Werke an mehreren Orten in Hamburg – unter anderem im Gängeviertel, im Westwerk und im Frappant. Ergänzt wird das Ausstellungsprogramm durch Konzerte, Performances, Lesungen und den Kongress Cities, Culture and Sustainability. In diesem Rahmen fand auch ein Workshop mit rund 80 Kongressteilnehmern in der Alten Bahnmeisterei im Hamburger Oberhafen statt. Dabei wurden viele der Kongressinhalte aufgegriffen und über die weitere Entwicklung und den Ausbau des City Link Netzwerkes diskutiert.
Verantwortliche und Förderer

Das City Link Netzwerk wurde 2012 von giverum.nu initiiert, um die Kulturszenen von Hamburg und Kopenhagen stärker zu vernetzen. Das City Link Festival 2014 wurde organisiert und umgesetzt von Jesper Koefoed-Melson, Carsten Rabe und Till Haupt. Der Kongress Cities, Culture and Sustainability wurde von Michael Ziehl (urban upcycling) konzipiert und organisiert. Gefördert werden die Aktivitäten des City Link Netzwerks von der Kulturbehörde Hamburg und der Stadtverwaltung Kopenhagen.
Weitere Links

Publikation zum Kongress und zum Festival (Englisch)
Interview mit Redner Dr. Sacha Kagan auf dem ZEIT Online Hamburg Blog
[imagebrowser id=18]